The history of Skylanders is rather interesting to me, especially when it comes to characters that made it to the "Prototype" stage.
This thread will hopefully document
confirmed PROTOTYPES of Skylanders
. When updating this thread,
please include the BEST image possible for the Prototype found AND ensure that the source is reputable.
For the purposes of this thread, I would like to request that
the definition of a Skylander Prototype be:
Quote:
a one of a kind figure that was molded and/or painted by Toys for Bob OR Activision, but NOT released to the media or for retail.[/b]
Two examples that would NOT be Prototypes based upon this definition are:
1.) 2011 E3's, such as Trigger Happy/Gill Grunt/Spyro in the original packaging
2.)
Custom
figures that were either articulated or painted
I will do my best to make edits and try and keep everything categorized into:
The Beginning
,
Spyro's Adventure
, &
Giants
. PLEASE forgive if I initially double post just so I can start the three categories and NOT have too many pics in one post.
Special thanks to Aura24 and kappapopm for having posted alot of this info in various threads and helping me get additional info to create this...

PLEASE HONOR Dan Amrich's wishes
, as the author of the article in the link below, by NOT assuming or believing that Prototypes will one day be released. In the end, they are just that, one of a kinds.
http://oneofswords.com/2012/10...ne+Of+Swords%29
Quote: Dan AmrichOneOfSwords
Hi all. I created that article. For those of you suggesting that these prototype figures will one day be made: They will not. I specifically asked Michael Graham if these characters had any chance of reappearing at some point in the future, or if they had simply served their function as a step in development. He said it was the latter, and that for Giants, the dev team sat down with a whole new fresh crop of character ideas. They move forward.

So please don't start any false rumors, and please don't assume that because you want it to happen that it has a chance of happening. That article was just intended to show you some of the amazing creative effort that went into making Skylanders, and to be completely honest, "Will people think that these are still going to get made" was a question that almost killed the article altogether -- many companies don't show you behind the development curtain for that very reason, and I had to make my case. I said we could give the audience credit for understanding that what they see, when clearly labeled as an abandoned prototype, was not going to be confused with a retail figure.

So don't prove me wrong. I was very proud of that article and I would love to be able to do others like it again in the future -- but I won't be able to if people start making stuff up and citing my article as if it's "proof" when it absolutely is not.
SKYLANDERS THE BEGINNING
: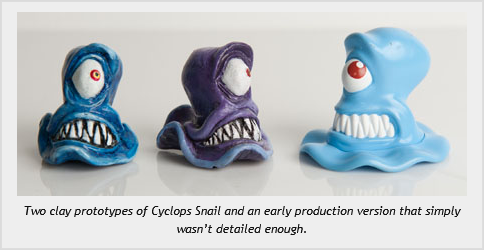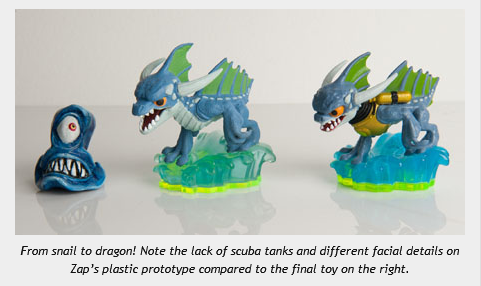 Spyro from "Spyro's Kingdom"
(Spyro's Kingdom was slated to be the original release, but scrapped in 2010, so that SSA could implement Portal magic)