A brand new Skylanders comic-book series is on its way, set to debut in July at the San Diego Comic-Con the first issue will be a prequel to
Skylanders Trap
Team. It'll give back story to a few favourite characters and a first look a some of the brand new characters from the upcoming game.
Quote: IDW Publishing
In conjunction with Activision, IDW Publishing is proud to announce the first-ever Skylanders comic-book series, penned by renowned comic-book writer Ron Marz, and Mike Bowden and David Baldeon as lead artists. In the world of video games, Skylanders is a global phenomenon and the best-selling kids' game franchise since its launch in 2011. Now fans have the opportunity to follow the adventures of all their favorite characters from Skylands through the magic of comic books.

The videogame sensation is making the leap to the pages of comics this July, debuting at Comic-Con International: San Diego 2014. Skylanders #0 features an introductory 16-page story as well as character guides and additional back-up information. The issue will be launched in both print and digital during SDCC weekend.
The writer,
Ron Marz
, has
previously written
for
Skylanders Swap Force
. For an exact date this year's San Diego Comic-Con runs July 24th-27th.
In toy news, Kickoff Countdown has been given a solid release date, it's due out this Sunday at Toys R Us stores in the US and at "retailers worldwide the following week". The final Swapper, Doom Stone, was also
released
this week in the US and the
UK
.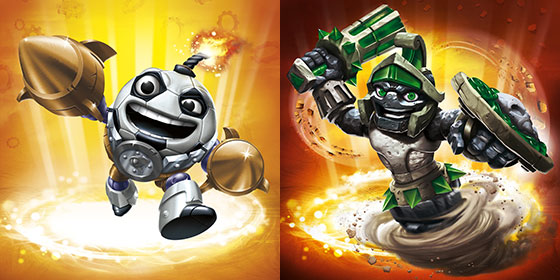 Kickoff Countdown is an in-game variant who will appear exactly as the toy looks when you play with him. He also unlocks a special hat for your collection. Doom Stone's release means that it is finally possible to make all of the 256 different combinations, something that forum member GameMaster78 has really
taken to heart
.
And now another round-up for the Android and iOS game
Skylanders Lost Islands
where they've made May a Life themed month.

April 21: Springtime Trigger Happy became available without the toy. Beatrees began collecting from the Sheep Topiaries in addition to the Energy Fields she usually does.

May 1: Brand new Alter Ego "Builda Grilla Drilla" arrived in the Wishin' Well.

May 6: A long timed quest to earn an upgraded Life Sanctuary, the "Life Sanctum", began and a new tiny island, "Sugarbat Island", appeared. At level 43 you can buy the island for 35 million coins.

May 12: A new feature was added, now plants will randomly grow on your islands. You can spend gold to clear them away and they'll sometimes drop gems or energy along with their regular kingdom xp. And Punk Shock was added to the store along with a permanent way to add any Skylander by their code.