The
official Skylanders website
has been updated with all of the artwork, videos, back stories and a few screenshots of each of the new
Skylanders SWAP Force
characters like Punk Shock and Wind Up below.
Several new trailers for the game have also been posted on the
official Youtube channel
like this CGI trailer introducing us to a new villain.
A few new alternative decoration toys have been discovered recently including a new Enchanted Hoot Loop, the first visual of Nitro Magna Charge, and an odd looking Jolly Bumble Blast. The first two you can find on the official website but Jolly Bumble Blast remains elusive.

Frito-Lay have
launched
a new sweepstakes to win a special orange and black Fright Rider. You find a code inside the large packs and enter it online for a chance to win one of the Fright Riders. It runs until the middle of November but remember it's just a chance to win unlike with the Sidekicks.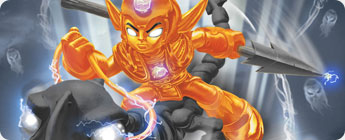 A fairly large update has hit the Lost Islands this week, you'll need to go to the App Store to update the app this time.

A brand new type of currency called Kudos that is earned from the social objectives and used to buy a few things.

Admiral Thumpback is a new Alter Ego but not from the Wishin' Well, instead he'll cost you 2000 Kudos.

A new companion, Capybara King, costs 150 Gems but then causes all of your chests to have a bonus gem inside.

Gurglefin is another new companion, he costs 400 Kudos and adds the chance to get Wishstones from gifts.

The penultimate Sidekick Thumpling also sneaks in, he'll cost you 300 Gems if you don't have the toy.

You can get Thumpback's House for free until the 29th.

It's also Water Week which means Water Skylanders get +25% gold just like the Dragon Skylanders did last week.

And finally there's a new bunch of decorations as well as a house for you to spend Kudos on.

Super Tuesday is a free gem each hour that you have to collect from Orville and 33% off Shrines.