Activision have finally revealed their plans for Spyro, and those plans are in the form of
Skylanders: Spyro's Adventure
.
USA Today
have the details of this new direction for the franchise.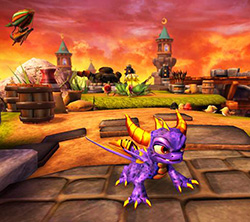 This is apparently the "innovative new universe" that "will bring the world of toys, video games and the Internet together in an unprecedented way" that Activision recently mentioned in their
Financial Results
. Which means the game is likely unrelated to any previous Spyro games and you'll be using various real world action figures from a set of more than 30 characters to interact with the game in some manner.
No platforms are mentioned specifically other than "multiple systems as well as computers, handhelds and phones" but earlier rumours suggested Wii and DS as candidates. They also give a release date of "this fall".
Thanks go to Aura24 for finding the article.