Finished
The Legend of Spyro: The Eternal Night
and wondering when you're going to find out what happens next? Well wonder no longer.
Velvet Octopus
, involved with the upcoming Legend of Spyro film, have posted the first information about the third entry to the trilogy.
Quote:
First appearance on PlayStation 3 and Xbox 360

Epic culmination of "Legend of Spyro" storyline Spyro finally faces the Dark Master

Fly at any time - first free flight in a Spyro game

Co-op play with Cynder (female dragon)

Global release Oct/Nov 2008

Other platforms aren't mentioned but I wouldn't cross them out just yet.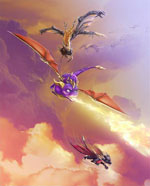 And even though this will wrap up the Legend of Spyro story they also go on to mention that annual releases of Spyro on all major gaming platforms in 2009 and beyond are planned.
UPDATE: Called "Legend of Spyro: Darkest Hour"?
EBgames
, they list PS3, PS2, Wii, Xbox 360 and DS versions of the game.
Thanks go to Vitani333 on SpyroForum and Neal from SpyroWorld.