For years the Digital world has coincided with the real world, often those from other sides would pass over and help out their fellow Digimon or Digi Tamers to stop evil, it seemed almost ritualistic, every few years new Digivices appeared, new DigiDestined were chosen...But recently nothing, perhaps due to the lack of any Digi activity. Both the real world and the Digital world had been peaceful. In the past large creatures would ravage the Earth and that would be cause for new DigiDestined however that has long since been forgotten, the world has moved past the attacks and the previous DigiDestined have moved on with their lives. But that only means one thing....Who's going to stop the evil that's lurking in the world now...
Digimon still exist, but only a selected few have any, you being one of those few. You don't know of anyone else that has a Digimon, due to the fact that if anyone knew you'd most likely be arrested for harboring a dangerous creature and then the government would get involved and that's just messy.
You wake up in the middle of the night to find a Digivice and a note explaining that you are needed and to meet in the park in the middle of town the following day at 10 am where all will be explained.
Rules
Keep it PG-13
No Godmodding
Your Digimon cannot be above Champion
After a battle your Digimon will lose strength and revert back to Champion or below depending on the energy exerted in the battle
Type "Energized" at the top of your post so i know you've read the rules
Be Descriptive!!! As in try to write more than a sentence or two each post
Don't kill other characters unless given the okay
If you have any major ideas for the roleplay send me a PM and let me know
Don't have the same Digimon as someone else, or at least not the same evolutionary line
Character Sheet:
Human:
Name:
Age:
Gender:
Personality:
Appearance:
History:
Other:
Digimon:
Species:
Nickname (Optional):
Gender:
Level:
Personality:
Appearance:
Evolutionary line:
------
Human:
Name: David Spencer
Age: 19
Gender: Male
Personality: David is fairly easygoing despite having grown up in a household where he was always expected to do what he was told all the time with no questions asked. Whenever faced with a challenge David will give up at nothing to solve the problem while trying to keep everyone else safe in the process. David is stubborn in a lot of cases but when it comes down to it he has a huge heart and would do anything for a friend.
Appearance: David is 5'10" with Spiky brown hair. He wears a pair of brown aviator goggles that hang around his neck aswell as a shark tooth necklace. He wears a white shirt with an open-button red shirt over it. He wears blue jeans and brown shoes with white bottoms. David has brown eyes and a small scar on the left side of his face that goes over his eye.
History: David was brought up in many different environments as he had gone from foster home to foster home throughout his life. When he reached the age of 16 he had finally found a family that didn't want to give him up, but that wasn't for his lack of trying. It was a strict household where he was expected to do everything he was told, on his 18th birthday he ran off and left a note behind telling his 'parents' of how much he hated his life with them. David always regretted that moment and sometimes even went back to that house hoping that the couple would be there but sadly the house was sold to another family. After giving up on finding his foster parents he decided that he would look for his real parents, a task he has yet to follow through on as things changed when he was matched up with Dracomon.
Other: N/A
Digimon:
Species: Dracomon
Nickname (Optional): Pertinax "Pert"
Gender: Male
Level: Rookie
Personality: Pertinax is incredibly stubborn, often even when others have formulated a plan he'll huff it off and commence with his own ideas, however, things have changed since he met David as David has helped him control the stubbornness. Pertinax cares deeply for his friends and if they are faced with danger he will gladly stand up to the plate and try to fight even if it's an un-winnable battle. Pertinax is brave, and incredibly so, he doesn't get scared often and even when he does he doesn't let it be known as he doesn't want his 'reputation' to be shattered. Pertinax loves shiny objects, which is a trait shared by all Dracomon. Dracomon can be ferocious at times especially when their gekirin (a special scale on their body) is touched, something that causes them to goes into a frenzy. Though only at the rookie level and incredibly small, Dracomon is one of the strongest Rookie Digimon around. Pertinax has wings but cannot fly, though he longs to soar through the skies, an ambition he shares with David.
Appearance: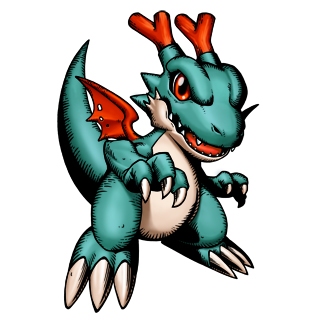 Evolutionary line: Petitmon > Babydmon > Dracomon > Coredramon (Blue) > Wingdramon > Slayerdramon > Examon (With Breakdramon)