T̸̙͈̫͙̎̔͊́̃̑̚Ḫ̷̮̏̇͆R̸̪̰̈́̽̓̎E̵̡̦͍̾E̶̢̬̖͎͚̙̮̻̾̆̍̽̒͗̑̒ ̷̡̢̧̮̼̪̺͙́͑̕͝H̷̬̤̣͔̓̃̽̋̚Ĕ̷̡̛̠̻̜̼͈̀̾̓͘̕͝R̴̡̗̤̯̾̓̔̊̏̿Õ̶̲̠̙͎̣̼̖̊͛̑͋̉̕E̸͇̰̿͋̏̅̔͘S̶̡̧̹̥͕̥͍͚̾̇̇̿͝ ̷͚̟͍̈́̃͆̓̌͘͝͝A̸̤̱̼͙̟̻̗̓P̵̥̓͝Ṕ̶͓̽͑̂̍E̸̞͕̱̍̈́͐́̽͝Ǎ̴̳̑̅̚ͅR̵̬͐̒̽È̴͉̲̱̇D̵̢̗̏͌͂͘͝ͅ ̵̯͙͕̩͓̲̫̍̓̂̈́͝T̸̡̢̰̙̽͘Ö̶̬̹̼̭́̀ ̵̢̭̣̯̪͐͋́̀̎̊B̵̰̹̹̺̑Ą̶͍̍͋̌Ṋ̷̢̠̭̗̭̖̎͆̋̉̾I̷̠̤̩͇̣̦̣̿͋̽̇̊̒́S̴͍̝̦̭̮͂̔͂̔͜Ȟ̴͇̩̫̗̠̯͖̓̾̊͘͜ ̸̢̧̨̠͚̪̈́̌͐̽̇͂̐͝T̸͖͈̬͍̝̯̈̉́̿͝H̸̢̀͌́̉̒͒E̵͙̖̝͙̎͐̈́ ̸̧̠̣̯͔̀À̸͍̪̤͖̯ͅN̶̛̜͙͉̳̯̓̃͋̈́͝G̴̠̱̘̥̥͗ͅĘ̶͇̫̹̫͆͆̔̈́̅̑͌L̷͖͈̝̦̣̾̋Ś̷͕̰̬̱̪̉̃̊̒͋̍̐ ̸̥̪̬̜̩̩̓̐͂͌̿͌̎H̶̙͚̝͉͐̆̕Ė̴̼̣͇̍̀̀̕Ǎ̴̝͍̩̙̻̂̾̋͐V̸̡̮̣̝̞͉̄͜E̴̳͈̹̹̩̝͈̎̎͌̂̽͘̕͠Ṇ̶̛͍̬̉́̑̋̍̄̕͜
http://deltarune.com/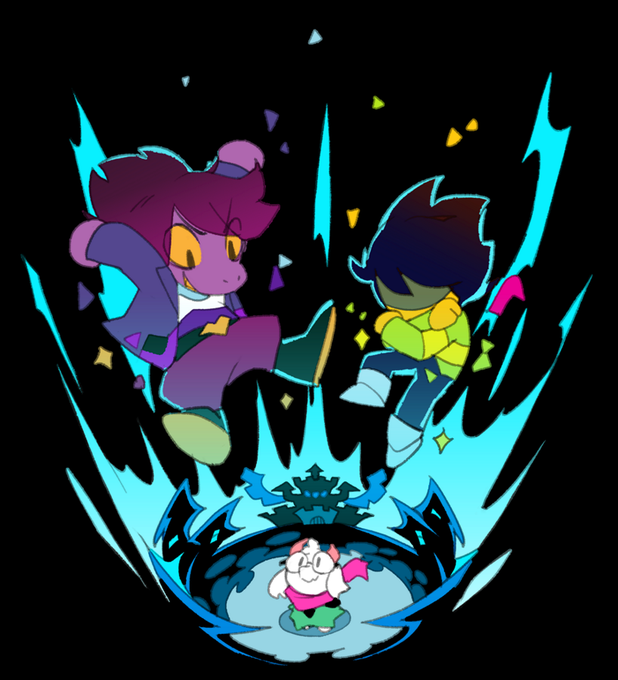 Deltarune is an episodic RPG, a sister game to indie hit Undertale. Foretold by Fate, a human, a monster, and a prince from the dark, must seal the Dark Fountains and prevent the world from being covered in darkness.
But no one can choose who they are in this world, and there's a lot more hidden under the surface...
Don't forget, I'm with you in the dark...