Earlier today Instagram user
ziotec
took some photos of the back of a Skylanders SuperChargers pre-order display box which shows off several new Skylanders and vehicles.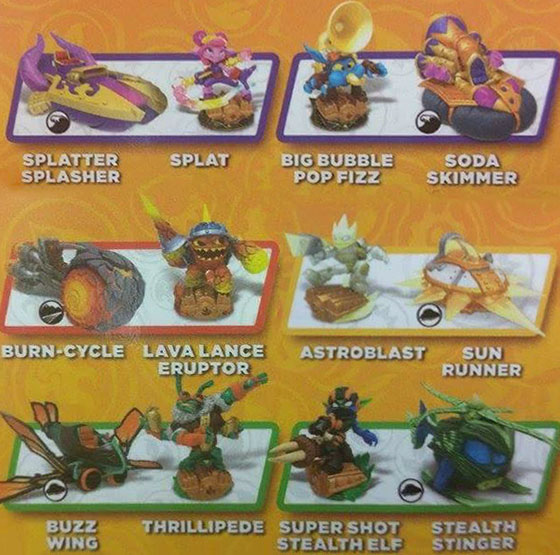 So we now know of the new Life SuperCharger "Thrillipede", the returning Magic SuperCharger "Big Bubble Pop Fizz", and the new Light SuperCharger "Astroblast".
There are some new vehicles with Pop Fizz's vehicle "Soda Skimmer", Thrillipede's vehicle "Buzz Wing", and Astroblast's vehicle "Sun Runner". And we have names for Splat's vehicle "Splatter Splasher", Lava Lance Eruptor's vehicle "Burn-Cycle", and Stealth Elf's vehicle "Stealth Stinger".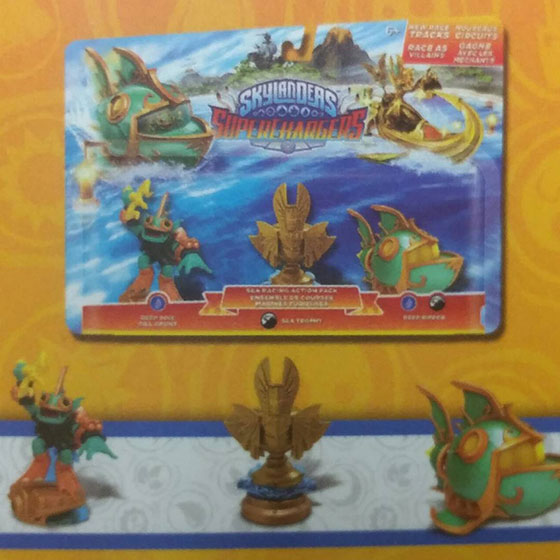 On the side of the box there is also confirmation of "Racing Action Packs", the example of which contains Deep Dive Gill Grunt, Reef Ripper, and a Sea Trophy shaped like Golden Queen's head. It is likely of a similar function to the Kaos Trophy that comes with the Dark Edition Starter Pack, but we still don't really know what that does yet either. The top corner of the pack does however mention "New Race Tracks" and "Race As Villains" so make of that what you will.
Also worth noting is that in a list of features the box mentions "NEW Online Multiplayer Race & Coop Modes".
In a separate event a product listing on a French retailer's website has outed a possible partial line-up for Wave 1 of SuperChargers along with a potential name of a SuperCharger "Smash It" (by the process of elimination that's either the Earth SuperCharger or the beginning of Roller Brawl's name). If the listings are accurate then (other than the Starter Packs) Wave 1 will be the following:
SuperChargers
Dive-Clops

Stormblade

Fiesta

High Volt

Nightfall

"Smash It"

Shark Shooter Terrafin
Vehicles
Dive Bomber

Crypt Crusher

Sky Slicer

Shark Tank

Stealth Stinger

Jet Stream

Sea Shadow

Burn-Cycle
I am sure it's not out of the realms of possibility that there will also be a Racing Action Pack and Combo Packs available at launch in September.