Hey. This can be a silly, simple little role play, just to have fun. There's not much of a story to it, you just get to pretend to be a fluffy kitten or a wolf, and they interact with one another. It would be interesting to see a story develop, but I'm thinking as a basis they live in a forest together and are friends. If you have suggestions on how to make this a better role play, then I welcome them!
Rules and pointers
- All the basic you probably know guidelines in the General Role Playing Help topic apply.
- You can upload as many characters as you want, just not too many or it'll get confusing! I would like it if you uploaded both a wolf character and a fluffy kitten character. If you're going to have a few characters, it may be less confusing if you have a few ''main characters'' that are more detailed and you use more.
- You don't have to fill in everything in the character sheet, or you can add different things to it.
-You can use photos or drawings for the picture, or no picture at all. Just give credit to the artist if you are use a drawing/painting, as said in the General Role Playing Help topic.
The character sheet to copy and paste:
Name:
Wolf or fluffy kitten?:
Age:
Gender:
Markings:
Picture:
Personality:
Personality flaws:
Likes:
Dislikes:
My characters
---
Name: Demon Kitten
Wolf or fluffy kitten?: Fluffy kitten
Age: 3 months
Gender: Male
Markings: Black and white, white bib on chest.
Picture: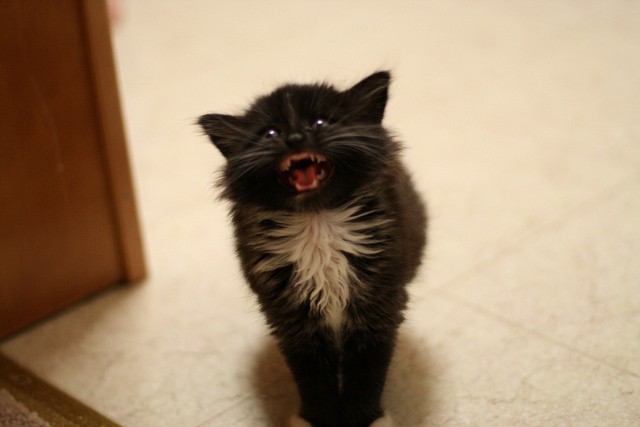 Personality: Mews a lot, very loudly - you see he likes to be the center of attention, but not too much and normally it's in a friendly, extroverted way rather than a destructive way. He's loud and he is persistant for such a little creature.
Personality flaws: At times his attention seeking, and his ability to annoy other with his excessive talking and meowing. Sometimes he even irritates other kittens! His hyperactivity too, but that is a trait shared by many kittens! Sometimes his curiosity gets him in trouble, but he's not as curious as some kittens. He can be easily bribed with food.
Likes: Attention , mewing, playing, sniffing new things, looking for food, discovering new things, interacting with wolves and fluffy kittens!
Dislikes: Not getting attention, being ignored, being told to be quiet.
----
Name: Wilma
Wolf or fluffy kitten?: Wolf
Age: Teenager in wolf years!
Gender: Female
Markings: Typical gray wolf markings, but with a reddish marking on her nose.
Picture:
Personality: Wilma is painfully shy, and needs help coming out of her shell. She is like most teenagers - she's trying to find out who she is. She is empathic and understanding, but has some immatuarity.
Personality flaws: She has great trouble standing up for herself and expressing how she truly feels. Because she is so shy she gets lonely.
Likes: Helping others, listening to others.
Dislikes: Sometimes talking!